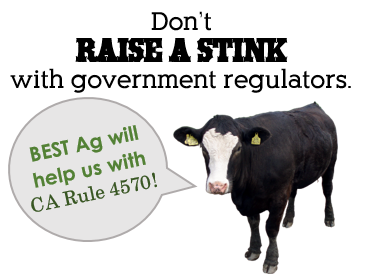 Revive your lagoon with BEST Ag!
Air quality: eliminate odor
Aesthetically: clearer, no "islands"
Break up crust
Increase manure value for crop spreading
Greater lagoon capacity
Cleaner water for lane wash down
No more money spent on costly dredging
Compliance with current and future government oversight!
With the growing pressures to have a clean and purposeful lagoon, BEST Ag has implemented strategies and aligned industry partners to offer products and services for lagoon treatment. Depending on the size and scope of your operation, coupled with the needs and goals that you have, we will design a tailor-made program using our resources to tackle your unique lagoon and continue to maintain it for the maximum benefit of the operation while adhering to government compliance standards.



*Did you know? BEST Agri-Marketing services can aid you in maintaining compliance with San Joaquin Valley Air Pollution Phase II Rule 4570.
The Lagoon Master Sludge Activating Aerator is one of the innovative systems we provide to clean up your lagoon by:
Eliminating the organic solids in the sludge completely through microbial digestion.
Providing dissolved oxygen to keep the entire microbial population alive and thriving.
Eiminating all odors in the water.
Oxidizing the trapped waste gases (nitrogen, ammonia, and H2S) in the water column and sludge, cleaning the water.
Reducing the sludge buildup to the point that lagoon dredging is set back indefinitely.
*A Reliant Water Technologies Product