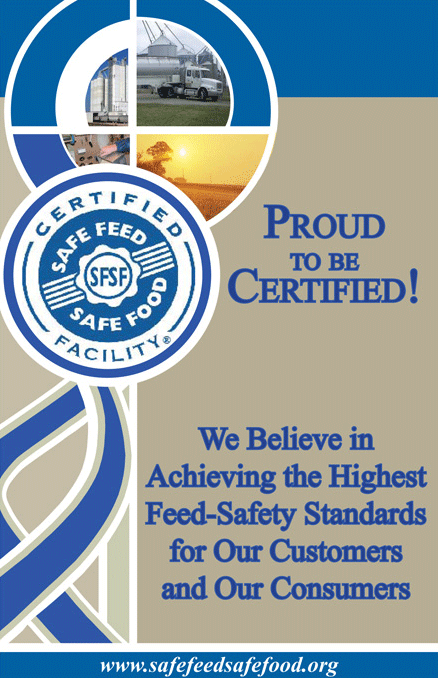 Best Agri-Marketing is pleased to team with Kauffman's Animal Health, Inc., one of 378 U.S. and Canadian facilities that have earned the privilege to participate in the Safe Feed/Safe Food Certification Program, an exclusive, third party-certified program of the American Feed Industry Association.
What does the Safe Feed/Safe Food Certification Program stand for?
Reducing Risks
Tracking and Tracing Products
Protectinig Hard-won Brand Value
Lowering Product-liability Insurance Rates
Decreasing Waste, Shrink and Customer Complaints
These facilities demonstrate our commitment to safety and quality each and every day, adhering to comprehensive standards of excellence that go beyond existing regulations.
Employees of Safe Feed/Safe Food certified facilities exhibit accountability and leadership. They know getting ahead of the curve today means being in a position to succeed tomorrow.
Healthy, productive animals mean a safe, sound food supply. And it starts with our responsibility, our promise to provide the best feed for dairy and beef cattle, swine, horses, poultry, fish and companion animals.